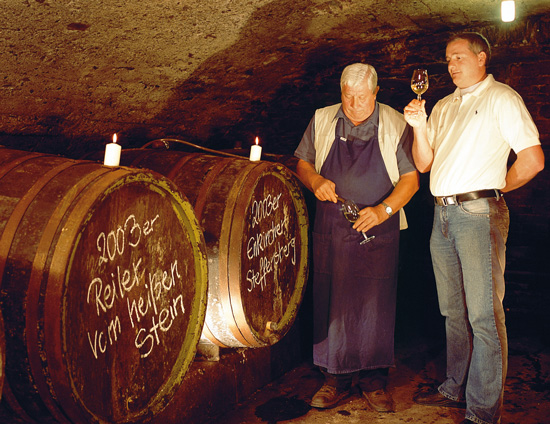 The Saga of the Citizen of Reil from the Hot Stone
The Count Palatine had offered the devil, to whom his soul was pledged, all of the wines in the world. But none of the wines sufficed to buy the devil off. The Prince of darkness soon rubbed his hands together and began to heat up the Reil slate because the deadline had almost passed.
Stirred by the hellish heat, there flowed from the stone a Moselle wine like none the Count Palatine had ever tasted before. So he took his courage in both hands and profferred his foe a last drink to test him.
No sooner had the devil felt a drop of this drink on his tongue when he forgot his victim and, smacking his lips, loudly proclaimed: "At last, a drop from the hot stone"! The saved Count Palatine knew then what he would fill his cellar with in the future...